Pollinators are essential. Without them, we would not survive. Over 80% of plants require a bat, butterfly, moth, fly, bird, ant, beetle, or bee to pollinate them.
More and more every day we hear how pollinators are dying due to various reasons. We're not here to tell you what has gone wrong; but instead, we want to share some positive things you can do to help pollinators survive and thrive.
Consider planting a pollinator garden as part of your landscape to supply these vital animals and insects with food and habitat. Here are 10 of our favorite pollinator plants with helpful links to garden plans.
Milkweed (Asclepias) - A pervasive grower, plant milkweed where you don't mind it spreading or you where you can control it. The orange milkweed is an essential flower for the monarch butterfly whose caterpillars rely on its leaves as their main food source.
Impatiens – Don't let excess shade stop you from starting a butterfly garden; plant some Impatiens! Impatiens are a low-growing vibrant flower which can come in a wide range of colors that will pop. Impatiens will bring in butterflies and hummingbirds, with the occasional bee.
Hummingbird Mint (Agastache) – This plant's long spikes can reach five feet tall. It is referred to as nature's butterfly and hummingbird feeder with its white, pink, and purple tubular-shaped flowers offering nectar. Plant it in fertile, well-drained soil with full sun.
Purple Coneflower (Echinacea) – Another go-to plant for a pollinator garden—purple, daisy-like coneflowers attract most of the beneficial insects, and are easy to grow. The flowers are commonly used for medicinal purposes too. Allow them to go to seed for the goldfinches in fall.
Fennel – This perennial herb with its yellow flowers and feather-like leaves is in the celery family. It attracts most beneficial insects and is the preferred habitat for the swallowtail butterfly and its caterpillar offspring. Fennel has a licorice taste and the seeds, flowers, and bulbs are a staple in Mediterranean cooking.
Phlox – This creeping ground cover is in the wildflower family. Its foliage is a food source for the larvae of many butterfly species. Phlox flowers are star-shaped and are available in various colors to compliment any garden.
Bee Balm (Monarda) – A member of the mint family, this fragrant orange plant is irresistible to honey bees. Plant it outside a window so you can enjoy the scent and be entertained with the show of hummingbirds, bees and butterflies.
Verbena bonariensis – Verbena attracts not only butterflies and bees, but hummingbirds and the breathtaking hummingbird hawk-moth (picture is on the right) as well. It is a popular member of the pollinator garden because its foliage is minimal—almost transparent—making it a great filler plant.
Aster – Fall asters are vital for pollinators, because they are the last to bloom and can be essential to a bee hive's winter sustainability. With 180 different aster species to choose from, you're sure to find a color and texture you love.
Borage – Borage is inexpensive and easy to start from seed. Although it is an annual, it self-seeds and returns in spring as a perennial would. Its blue star-shaped flower is a bee favorite, yet nuisance insects avoid it.
When it comes to creating a pollinator garden it is important to provide a good mix of nectar plants for bees and butterflies, as well as host plants for caterpillars to feed on. Creating an attractive garden fulfilling these elements can be quite simple. Include the plants above and you'll be on the right track. To make it even easier, here is a pollinator garden plan to help you with planting your own.
Image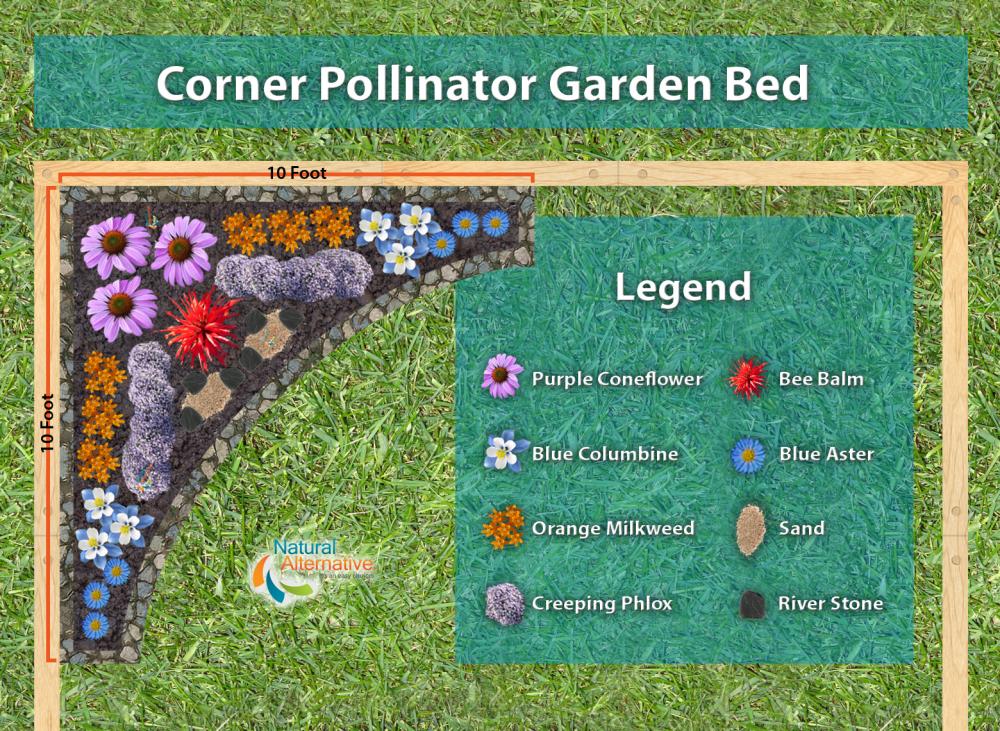 Do you have other advice or tips on attracting beneficial pollinators to your garden? Let us know on Facebook!