It's always rewarding to be able to cook recipes with home-grown, fresh food, straight from the garden...but how can you use these ingredients in your drinks? We decided to put refreshing liquids in the spotlight by sharing our three favorite home-grown drink recipes, with ingredients straight from our gardens! Share your own recipes with us by visiting us on our Facebook page.
Fruit Smoothie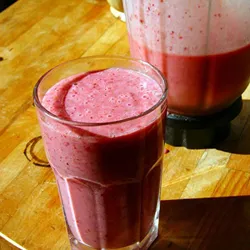 This is our favorite fruit smoothie recipe. We've nicknamed it the "Red, White, and Blue".
Ingredients:
1 cup yogurt
1 cup spinach
1 cup blueberries
5 strawberries
1 banana
Directions:
Making a fruit smoothie is pretty straight forward, but here are some extra tips:
Freeze your fruits to ensure a cold smoothie.
Don't add water or ice as they can water a smoothie down.
Avoid "under-ripe" fruit as it has less flavor.
For best results, blend ingredients in this order:
Wet ingredients, like the yogurt.
Leafy greens or soft fruits.
Frozen or tougher ingredients.
Going in this order prevents damage to your blender's blades. The most important thing to remember though? Have fun, and experiment!
---
Watermelon and Cucumber Refresher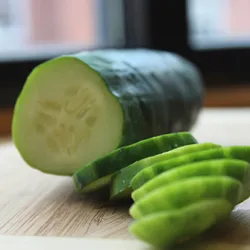 Here's a simple, refreshing summer cocktail with wonderful color. This one can be made with or without alcohol.
Ingredients:
3 cups cubed watermelon
⅔ cucumber - cubed
⅓ cucumber - thinly sliced
1 lime
1 Tbsp. honey
Ice
Vodka (1oz. per drink if desired)
Directions:
Puree watermelon and cucumber, separately, with a blender.
Strain the puree through a screen or cheesecloth into your desired pitcher or punch bowl.
Stir the rest of your ingredients into the pitcher/punch bowl. If desired, add vodka (1oz. for every 12oz. you are making).
Garnish with sliced cucumber.
The recipe above creates 1-2 drinks depending on the size of your produce. For larger sizes, double the recipe. When making the recipe, we tried adding mint leaves for a little kick—it was amazing!
---
Flavor Your Water!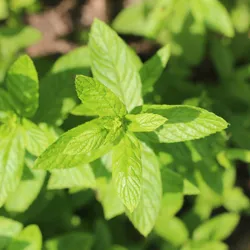 Sometimes, water can get boring. It's super easy to spruce up your daily water with these ingredients:
Possible Ingredient Combinations:
Lemon, lime, mint
Lime, cucumber, mint
Honeydew melon, mint, cucumber
Strawberry, watermelon, mint
Ginger, mint, lemon
Directions:
Choose any of the above combinations of ingredients and add them to the bottom of a pitcher.
Slightly muddle the ingredients together.
Top the fruit with ice, filling to the top of the pitcher.
Fill the pitcher with filtered water.
If you dislike pulp in your drinks, use a strainer as you pour the flavored water into each glass.