Handheld Broadcast Spreader & Seeder
Image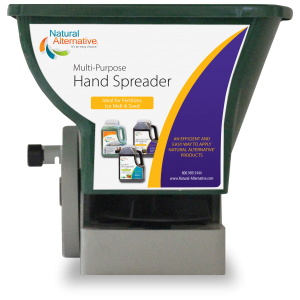 Don't get your hands dirty
Apply product efficiently
Smarter spreading
Natural Alternative®'s Multi-Purpose Hand Seed Spreader offers a lightweight and portable method of distributing our grass seed, fertilizer and ice melt. With a scoop design for easy filling, take the hassle out of seeding and spreading.
All-purpose hand spreader
Spread our lawn care products easily and evenly by adjusting the spreader settings to apply the correct amount of product. With an adjustable spread pattern of six to twelve feet, the multi-purpose hand spreader can hold five pounds of fertilizer, three pounds of grass seed and nine pounds of ice melt. Skip the stress and get straight to the spreading.
Get Dirty!
Sign up for our monthly newsletter, The Monthly Dirt, for timely lawn and garden tips, checklists and product recommendations.