Made In The Shade Grass Seed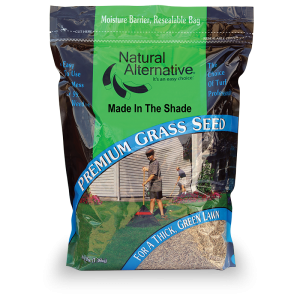 Drought tolerant and eco-friendly
Choose low maintenance seed for your lawn.
Grow a tough turf
Made In The Shade Grass Seed from Natural Alternative® is perfect for lawns with areas of deep shade, growing in as little as two to four hours of sunlight. With a fine texture, this fescue and ryegrass blend grows in all planting zones and results in a bluish, green lawn.
Premium seed for thicker lawns
Made In The Shade Grass Seed is Blue Tag Certified and is bagged with zero weed filler, helping make sure your lawn grows tough and thick with the correct grass type. This seed selection requires little fertilizer and is not recommended for heavy traffic areas.
Product Information
Application Instructions

Application Instructions

New Lawn: 4-6 lbs. per 1,000 square feet.
Existing Lawn: 2-3 lbs. per 1,000 square feet.

When seeding, open hopper half way. Make a pass vertically and then horizontally for new seedings. For established make only one pass. Grass grown under shady conditions should be allowed to grow to 4" before cutting. Reduce fertilizer applications.
Get Dirty!
Sign up for our monthly newsletter, The Monthly Dirt, for timely lawn and garden tips, checklists and product recommendations.