Recuperator 7-10-4 Starter Fertilizer
Image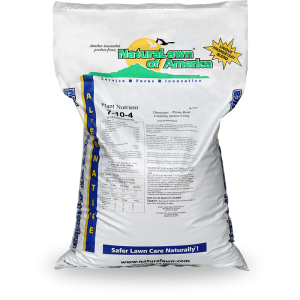 Feed your freshly seeded lawn.
Supercharge seed germination.
Natural Alternative® Recuperator 7-10-4 Starter Fertilizer is perfect for newly seeded or damaged lawns, helping to ensure seed grows to its fullest potential. Recommended for starting lawns from scratch or being overseeded for thicker growth, Recuperator Starter Fertilizer provides grass seed with nutrients needed to develop strong root systems. The result is a maximized seed germination period and accelerated plant growth, especially in poor soils.
Recuperator 7-10-4 Starter Fertilizer contains beneficial soil microbes to restore soil health and help fight off diseases which can slow growth. This starter fertilizer can help damaged lawns recover and covers up to 6,000 square feet. For best results, apply when spreading seed.
Product Information
Application Instructions

Application Instructions

Apply fertilizer with seed into the top 1/8" of soil. Water for 4 to 6 weeks being careful to avoid extended dry periods. Apply product evenly with a calibrated spreader. For best results, apply prior to rainfall or irrigate immediately following application.
Get Dirty!
Sign up for our monthly newsletter, The Monthly Dirt, for timely lawn and garden tips, checklists and product recommendations.