Recuperator 7-10-4 Starter Fertilizer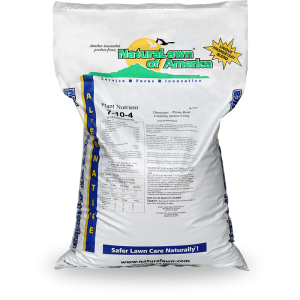 Covers up to 6,000 sq.ft.
Supercharge seed germination and feed your freshly seeded lawn.
Maximize your seed.
Natural Alternative® Recuperator 7-10-4 Starter Fertilizer is perfect for newly seeded or damaged lawns, helping to ensure seed grows to its fullest potential. Recommended for starting lawns from scratch or being overseeded for thicker growth, Recuperator Starter Fertilizer provides grass seed with nutrients needed to develop strong root systems. The result is a maximized seed germination period and accelerated plant growth, especially in poor soils.
Boost roots and shoots.
Recuperator 7-10-4 Starter Fertilizer contains beneficial soil microbes (Our Protilizer®) to restore soil health and help fight off diseases which can slow growth. This starter fertilizer can help damaged lawns recover and covers up to 6,000 square feet. For best results, apply directly after applying seed and give it a light water in or apply before light rain. The small amount of phosphorus is just what the seedlings are asking for. We have designed our starter fertilizer with the phosphorus your lawn needs so you don't have to worry about runoff or over application when used as directed. We strive to create products that are designed to be fully used within the lawn, no fillers here. 
Product Information
Application Instructions

Application Instructions

Apply 3 to 4 lbs. per 1,000 sq.ft.

Apply fertilizer directly after seed, 3 lbs. per 1,000 sq.ft. unless you are lacking phosphorus then apply 4 lbs. per 1,000 sqft. Water deeply but infrequent for 3 weeks being careful to avoid dry periods. Keeping the soil moist but not wet (playdough like) is best for seed germination.

If you are applying to replace needed phosphorus in your lawn apply 4 lbs. per 1,000 sq.ft. unless specified less on your soil test results. You can add this application more than once in a year if specified on your soil test that it is needed. To much phosphorus isn't beneficial to the lawn so keeping your phosphorus at a neutral level is always best.

Download our spreader settings sheet to find proper settings for your spreader.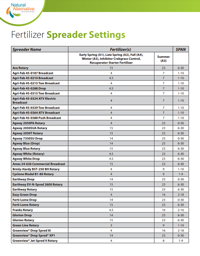 Get Dirty!
Sign up for our monthly newsletter, The Monthly Dirt, for timely lawn and garden tips, checklists and product recommendations.