Organic Mosquito, Tick & Flea Control Concentrate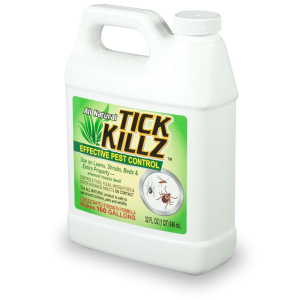 100% organic pest control
Concentrated strength for universal coverage
Protect your family and pets from the dangers of adult pest insects and larvae with our all-natural, organic Mosquito, Tick & Flea Control Concentrate. Our concentrate brand name is Tick Killz, and is the same product as our Garden Hose End Spray Mosquito, Tick & Flea Control. Our insect control is concentrated for use on lawns, shrubs, flower beds and landscaping. This product won't stain hardscapes and leaves a fresh, cedar fragrance. 
100% organic ingredients
This Mosquito, Tick & Flea Control Concentrate is made from 100% organic ingredients, making it safer to use across your entire property. This insect control targets pests specifically, leaving pollinators, earthworms and pets unharmed. Enjoy the lawn as soon as the product is dry!
Perfect to apply before a outdoor gathering. See application instructions on how to apply. 
Product Information
Application Instructions

Application Instructions

MIXING:

Mix product with water according to label in a handheld or backpack sprayer and shake well. Spray entire lawn making sure to get under shrubs and trees, decks and playsets. Give the lawn a light mist and allow to dry, roughly 10 mins on sunny days but no wait time to go play. If you have left over product in sprayer it is fine to use next by next application just be sure to give it a good mix/shake.
Concentrated strength - Coverage Area:
64 oz. yields 320 gallons - treats up to 7.5 acre
32 oz. yields 160 gallons - treats up to 3.75 acres

8 oz. yields 40 gallons - treats up to 1 acre
When to apply:
Apply starting early spring to early winter for best protection from pests. Apply every 3 to 4 weeks to continue to protect your lawn, this interrupts the pests gestation cycles. because this is a organic product it will break down with weather, so if you get a heavy rain storm you may need to reapply the product. Keeping up with changing any sitting water in the lawn, pets bowls, bird baths and other things that hold water. Changing the water in those will stop mosquitos from laying eggs in those areas.
Safe to use on entire property:
While this product is safe to use on the entire property there are some things to avoid. Do not apply directly to fruit trees or vegetable gardens, this is a oil based product and the oils can cause a dehydration effect on some fruits and vegetables. Apply product around the fruit trees and gardens just not directly to. If you are near a body of water do not apply to the water itself apply 10 feet away from the edge of the water. Due to this being oil based you do not want to apply directly to the water as it can stop oxygen from getting into the water.
Complies with EPA Regulations for 25(b) pesticide exempt. Do not apply when rain is expected within 12 hours.
CAUTION STATEMENT: Keep out of reach of children and pets. Not recommended for fruit trees or edible crops. In the event of prolonged skin exposure, flush the area thoroughly with water for at least 15 minutes and consult a physician. If swallowed, seek medical attention immediately. FOR OUTDOOR USE ONLY.
Get Dirty!
Sign up for our monthly newsletter, The Monthly Dirt, for timely lawn and garden tips, checklists and product recommendations.