Mosquito, Tick & Flea Control Concentrate
Also Available As
Image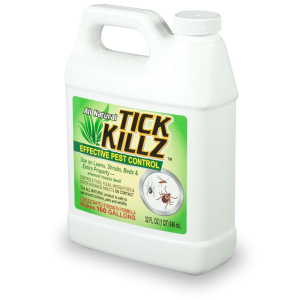 100% organic pest control
Concentrated strength for universal coverage
Protect your family and pets from the dangers of adult pest insects and larvae with our Mosquito, Tick & Flea Control Concentrate. Our insect control is concentrated for home use on lawns, shrubs, flower beds and landscaping. This product won't stain hardscapes and leaves a fresh, cedar fragrance.
This Mosquito, Tick & Flea Control Concentrate is made from 100% organic ingredients, making it safer to use across your entire property. This insect control targets pests specifically, leaving pollinators, earthworms and pets unharmed. Enjoy the lawn as soon as the product is dry!
Product Information
Application Instructions

Application Instructions

MIXING: Shake product thoroughly. Fill a clean garden sprayer with water. Add 1/4 ounce (1-1/2 teaspoons) of Tick Killz™ Concentrate to one gallon of water.

SPRAYING: For best results, use a pressurized garden sprayer and spray the underside of foliage, low hanging limbs, under deck structure and around patios. Apply on lawns, shrubs, wooded property, perimeters and any shady or damp areas where insects dwell and breed.

Complies with EPA Regulations for 25(b) pesticide exempt. Do not apply when rain is expected within 12 hours.

CAUTION STATEMENT: Keep out of reach of children and pets. Not recommended for fruit trees or edible crops. In the event of prolonged skin exposure, flush the area thoroughly with water for at least 15 minutes and consult a physician. If swallowed, seek medical attention immediately. FOR OUTDOOR USE ONLY.
Get Dirty!
Sign up for our monthly newsletter, The Monthly Dirt, for timely lawn and garden tips, checklists and product recommendations.