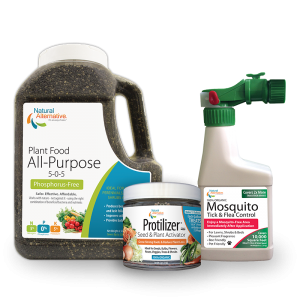 The perfect combo for your outdoor space
Pump up your plants with less pests.
Get growing without the nagging pests
This bundle from Natural Alternative® combines the growing power of our garden products with the protection of our organic insect control. Together, the products in this bundle help you grow and tend a thriving garden without the burden and dangers posed by pest insects.
Three great products for the outdoor gardener
Get Dirty!
Sign up for our monthly newsletter, The Monthly Dirt, for timely lawn and garden tips, checklists and product recommendations.