Inhibitor 18-0-6 Pre-emergent Weed Control
Image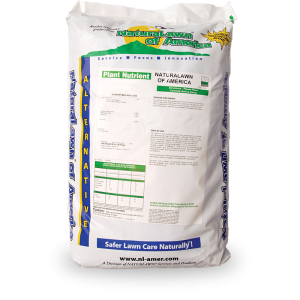 Prevent weeds from taking root.
Weeds can distract from your lawn's appeal and deprive grass of nutrients and water needed to thrive. That's why Natural Alternative® offers pre-emergent weed control to help fight off pesky lawn invaders before they become a nuisance. Natural Alternative® Inhibitor 18-0-6 Pre-emergent Weed Control fights weeds and be spread directly onto established turf to help prevent crabgrass and other weeds.
Our inhibitor can be used on a variety of grass types, including all Natural Alternative® seed selections. It also includes a mix of nitrogen and potassium to help your lawn thrive while preventing weed emergence. Our Inhibitor 18-0-6 offers control against annual grass weeds like crabgrass, goosegrass, foxtails and more, in addition to broadleaf weeds. It's time to enjoy your outdoor space without being burdened by invaders sprouting up in your lawn.
Product Information
Application Instructions

Application Instructions
When to Apply
Successful pre-emergence control of the annual grass weeds listed on this label requires proper timing of application. Apply this product 1 to 2 weeks prior to the germination of annual grass weeds. If application timing does not coincide with the normal germination period of any of the annual grass weeds listed on this label, weed control results may be erratic or poor. (Weed seeds typically begin to germinate when soil temperatures reach 55 degrees Fahrenheit.)
Weeds controlled when applied prior to weed germination:
Annual Grasses:
Annual Bluegrass
Barnyardgrass
Crabgrass (large, smooth)
Goosegrass
Crawfootgrass
Foxtails, annual
Broadleaf Weeds:
Chickweed, common
Knotweed
Lambsquarters, common
Pigweed
Purslane, common
In areas where germination of the annual weed grass species continues for an extended period of time, make a second application at the recommended rate 8 to 10 weeks after the first application on cool season turfgrass and 10 to 12 weeks after the first application on warm season turfgrass.
Activation
Optimum weed control performance will be obtained if treated areas receive rainfall or irrigation soon after application.
General Use Precautions and Restrictions:
Do not apply this product to golf course putting greens.
Do not apply this product through any type of irrigation system.
Any cultural practices that disturb the soil, such as aeration or verticutting, should be done prior to application of this product.
Do not apply to overseeded turf within 60 days after seeding or until after the second mowing.
This product is recommended for use on the following turfgrass species:
Established Cool Season Turfgrasses:
Creeping bentgrass
Kentucky bluegrass
Fescues
Perennial ryegrass
Established Warm Season Turfgrasses:
Bahiagrass
Fescue, tall
Bermudagrass
St. Augustinegrass
Centipedegrass
Zoysia
How to Apply:
Apply this product evenly over the turfgrass area using a properly calibrated drop type or rotary spreader. Calibrate the spreader prior to use according to the manufacturer's directions. Check frequently to make sure equipment is working properly and distributing granules uniformly. More uniform application may be achieved by spreading half of the required amount of product over the area and then applying the remaining half in swaths at a right angle to the first. Avoid skips and excessive overlaps as poor weed control or turfgrass injury may occur. Avoid use of spreaders that apply material in narrow concentrated bands. A splashboard mounted below the release point of drop-type spreaders can improve the uniformity of product distribution.
Uses:
Established Turfgrass
Broadcast Application Rates:
Application TimeCool Season TurfgrassWarm Season Turfgrass
Spring Application4-6lb/1,000 square feet8lb/1,000 square feet
Fall Application4-8lb/1,000 square feet8lb/1,000 square feet
This product may also be applied in single applications or split applications. For Maryland and states south, apply 2 applications at 4 lbs per 1,000 sq. ft 8-10 weeks apart. For states north of MD apply 6 lbs of product per 1,000 sq. feet prior to crabgrass germinating. This program is desirable when the initial application is made well in advance of weed germination and where weed control is desired for a longer period of time.
Specific Use Restrictions:
Do not make more than 2 applications totalling 11 pounds of this product per year on turfgrass.
Maximum single application rate: 8 pounds per 1,000 square feet.
Minimum Re-treatment Interval: Cool season turf – 56 to 70 days; warm season turf – 70 to 84 days.
This product must be watered in as soon as possible after application.
Reseeding:
Do not reseed treated areas for at least 4 months after a single application of 4 pounds per 1,000 square feet of product unless injury can be tolerated.
Reseeding Precautions:
Prodiamine, which controls annual grass weeds, may also affect the establishment of new desirable turfgrass seedlings, if reseeding is attempted too soon after application. When reseeding, it is essential that proper cultural practices, such as soil cultivation, irrigation and fertilization be followed. Reseeding, following the last application of this product, should not be attempted until the applicable minimum time delay in the following table has been met or less than desirable results may happen.
Amount of Product Applied Per
1,000 Square Feet (SF)Minimum Time Delay Following Last
Application Before Reseeding (Months)
Single application of 4 lbs/1,000 sf4
Single application of 8 lbs/1,000 sf6
Split application of 4 lbs/1,000 sf4 to 5
Split application of 8 lbs/1,000 sf5 to 6
Get Dirty!
Sign up for our monthly newsletter, The Monthly Dirt, for timely lawn and garden tips, checklists and product recommendations.