Image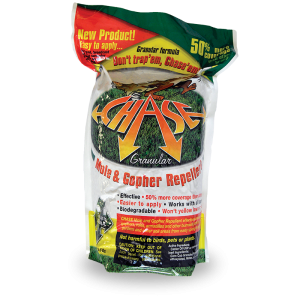 Natural ingredients make for effective control.
Chase Mole Control is biodegradable, environmentally friendly and a humane way to remove moles from your lawn. It is easy to apply and will not harm or discolor your lawn, shrubs or plant. Chase Mole Control is made up of corn cob pellets coated with castor oil which irritates moles. When contacted by moles, the castor oil irritates the skin. When ingested, it causes digestive discomfort, encouraging moles to vacate the property.
Apply Chase Mole Control every 45 days starting early spring through late fall (approximately 4 times). This application rate is usually sufficient to protect your lawn, while controlling moles. This product will repel moles, gophers and other burrowing pests such as voles, ground squirrels, rabbits, raccoons, skunks, groundhogs and even armadillos.
Product Information
Application Instructions

Application Instructions
Coverage
1 lb / 1,000 sq. ft. (6,000 sq. ft. total coverage)
Get Dirty!
Sign up for our monthly newsletter, The Monthly Dirt, for timely lawn and garden tips, checklists and product recommendations.