Cool Season Lawn Care Program
ryegrass/bluegrass/fescue
Image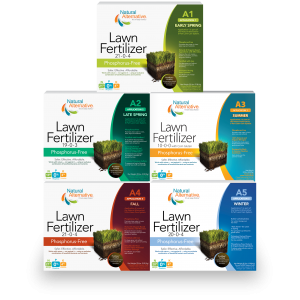 Each application covers 6,000 sq. ft.
Fortified with Protilizer® for supercharged results.
Every lawn has dietary needs to stay healthy, green and full. Fertilizer acts as a meal for your lawn, feeding the turf with nutrients required by your soil, in order for your grass to reach its full potential. The Natural Alternative® Cool Season Lawn Fertilization Program feature season-specific nutrient blends of nitrogen and potassium that meet the needs of your lawn's needs each season.
With natural and organic-based ingredients, Natural Alternative® lawn fertilizers foster a healthy ecosystem for the soil and beyond. This program is phosphorus-free, promoting clean water in nearby rivers, lakes, bays and wetlands. The nitrogen in our fertilizer is 100% organic, providing the soil with natural nitrogen, leading to a thick and dark green appearance.
Product Information
Application Instructions

Application Instructions
Apply fertilizer only at the recommended rates
Do not apply near water, storm drains, drainage ditches or if heavy rain is expected
Sweep excess product from driveway, sidewalk or street back onto the lawn
Get Dirty!
Sign up for our monthly newsletter, The Monthly Dirt, for timely lawn and garden tips, checklists and product recommendations.