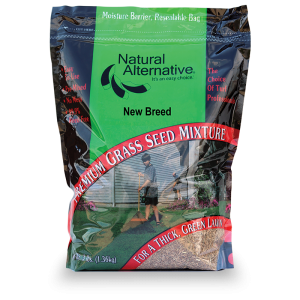 Drought tolerant and eco-friendly
Choose low maintenance seed for your lawn.
Grow a tough turf
Whether you're starting from fresh soil or adding new seed to thicken the lawn, New Breed Grass Seed from Natural Alternative® provides even and hardy coverage in both sun and shade. This tall fescue blend performs well in high traffic areas, and is popular in regions of the United States that receive winter snowfall.
Premium seed for thicker lawns
Natural Alternative® grass seed is Blue Tag Certified, meaning you can be sure your grass seed is the variety noted on the label without undesirable seed varieties. With zero weed filler, New Breed Grass Seed boasts high resistance to disease and insect damage, growing a thicker turf with less hassle.
Product Information
Application Instructions

Application Instructions

New Lawn: 5-7 lbs. per 1,000 square feet.
Existing Lawn: 3-4 lbs. per 1,000 square feet.

When seeding, open hopper half way. Make a pass vertically and then horizontally for new seedings. For established make only one pass.
Get Dirty!
Sign up for our monthly newsletter, The Monthly Dirt, for timely lawn and garden tips, checklists and product recommendations.