Pelletized Lime with Protilizer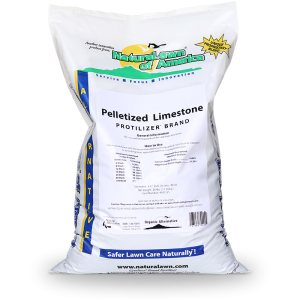 Give your lawn what it's asking for.
Pairs Well With
Find the right balance
Up to 70% of lawn fertilizer is wasted when soil pH is too acidic, leading to inefficient growth. To raise the pH of acidic lawns, Natural Alternative® offers Pelletized Lime Enriched with Protilizer®. Exclusive to Natural Alternative®, our fast-acting lime improves lawn health by releasing trapped nutrients in soil.
Supercharged with beneficial microbes
Our lime for lawns is blended with Protilizer® Seed & Plant Activator, an organic plant supplement rich with beneficial microbes that fight off disease and turf damage. Protilizer® helps roots grow strong for optimal water absorption, providing visibly healthier results as you raise the pH of your lawn's soil.
Product Information
Application Instructions

Application Instructions

Refer to your soil test results for recommendations regarding pounds per 1,000 square feet, frequency of application and timing.
Get Dirty!
Sign up for our monthly newsletter, The Monthly Dirt, for timely lawn and garden tips, checklists and product recommendations.