Small Lawn Fertilizer 15-0-4
Also Available As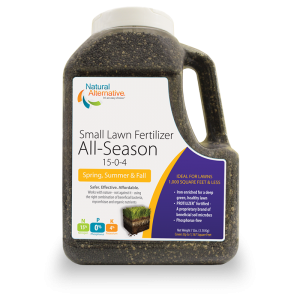 For townhomes, lots, beach homes and spot repairs
Fortified with Protilizer® for supercharged results.
The proper diet
Even smaller lawns benefit from proper fertilization and nutrients. Small Lawn Fertilizer 15-0-4 from Natural Alternative® provides all-season balanced feeding for your lawn. With organic nitrogen and no phosphorus, our Small Lawn Fertilizer is ideal for townhomes, executive lots, beach homes and spot repairs.
Naturally sustainable
Natural Alternative® Small Lawn Fertilizer contains iron and sulfur for a deep green turf color. Additionally, this fertilizer is fortified with Protilizer® Seed & Plant Activator, our exclusive plant supplement with beneficial microbes for efficient turf absorption of nutrients and water.
Product Information
Application Instructions

Application Instructions

Apply three times per year at the rate of 6 lbs. of product per 1,000 square feet. Apply evenly with a calibrated spreader. 6 lbs. of this product per 1,000 square feet is equivalent to 0.90 lbs. of nitrogen per 1,000 square feet and falls within state regulations for fertilizer application.
Get Dirty!
Sign up for our monthly newsletter, The Monthly Dirt, for timely lawn and garden tips, checklists and product recommendations.