100% CMA Ice Melt
Also Available As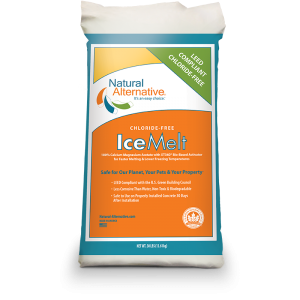 The safest option for high-value structures
Maximize your melt the eco-friendly way.
Pairs Well With
cma ice melt - our safest way to melt
Natural Alternative® 100% CMA Ice Melt is formulated without chloride and is less corrosive than tap-water, making it safer than regular ice melt and our safest ice melt option. Non-toxic and biodegradable, 100% CMA Ice Melt exceeds LEED compliance requirements for commercial and public properties, offering the safest deicer option for high-value structures. Avoid concrete damage with 100% CMA Ice Melt, as the product is safe to use on hardscapes such as concrete (without pitting or spalling) 30 days after installation. Environmentally-friendly, 100% CMA Ice Melt is safer to use around pets and your lawn, as well as safer for waterways and fish. Our CMA Ice Melt leaves no greasy residue and it won't burn paws or lawn turf.
Skip the salt
Natural Alternative® 100% CMA Ice Melt, our safest ice melter, breaks down snow and ice up to 15°F, making snow lighter and drier, improving traction and removal. Snow and ice turns into an oatmeal-like substance, facilitating easy removal without a brine. With a highly visible colorant for easy application and long shelf life, 100% CMA Ice Melt makes it easy to weather winter storms in an environmentally-friendly manner.
Product Information
Application Instructions

Application Instructions

For best results, apply CMA Ice Melt before or at the beginning of a storm to prevent snow/ice bonding. Allow time for the product to penetrate and loosen the snow/ice before removal. Re-apply Ice Melt when new accumulation of snow or ice shows first tendency to bond.
Apply 3 lbs. of CMA Ice Melt per 500 square feet.
Application rates vary according to climate and maintenance practices.
CMA Ice Melt is safe to use on properly installed concrete 30 days after installation.
Apply in accordance with label recommendations.
Get Dirty!
Sign up for our monthly newsletter, The Monthly Dirt, for timely lawn and garden tips, checklists and product recommendations.