5-0-5 All Purpose Plant Food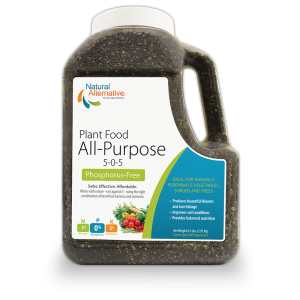 Dinner is served in the garden
All-purpose, all the time.
Phosphorus-Free Feeding
Perfect for novice and professional gardeners alike, Natural Alternative® All-Purpose Plant Food 5-0-5 provides plants the nutrients they need to grow and thrive. Give plants the nitrogen and potassium required for healthy roots and stems. Fortified with calcium, magnesium, iron and sulfur, this plant food is formulated for balanced feeding to provide optimum results.
Premium quality
Packed with beneficial microbes, our 5-0-5 plant food is trusted by professional growers and can be applied to vegetables, flowers, trees, shrubs, seeds and bulbs. Our plant food is great for both indoor and outdoor plants, providing continual feeding for sustainable and visible results.
Product Information
Application Instructions

Application Instructions

New Tree/Shrub Planting: Mix Natural Alternative 5-0-5 with humus into hole by mixing with humus prior to planting. Use 1/4 cup per foot of shrub or tree height. Water in.

Established Trees/Shrubs: Apply 1/4 cup per foot of shrub height in spring and fall to the soil or mulch under the tree/shrub. Work in lightly with rake or hand cultivator.

New Beds: Mix 6.5 lbs. per 64 square feet (8' x 8' plot) and incorporate rake into the top 4 – 5" of soil.

Established Beds: Apply 2.5 lbs. per 64 square feet (8' x 8' plot). Sprinkle product lightly at the base of the plants. Fertilize before mulch is applied. Apply in spring and fall. Remember, too little is better than too much!

Potted and Container Plants: Use 1 tablespoon per 6 inches of pot diameter every 4 – 6 weeks.
Get Dirty!
Sign up for our monthly newsletter, The Monthly Dirt, for timely lawn and garden tips, checklists and product recommendations.