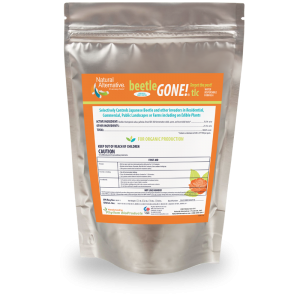 Target the pest, not the rest!®
It's time for effective beetle control.
Pairs Well With
Controls all beetles
Use beetleGONE!® to control adult beetle populations without chemical side effects. With no harm posed to bees and other beneficial insects, beetleGONE!® is labeled for use on a variety of landscapes, including turf and ornamental beds. beetleGONE!® is effective against a wide variety of destructive beetles, including Japanese, June, European and Oriental beetles, in addition to Northern and Southern Masked Chafers and weevils.
Seasonal control
With no wait time after application, beetleGONE!® is an easy and eco-friendly way to protect your lawn and garden from hungry adult beetles. For best results, apply beetleGONE!® from June until the beginning of August. For complete protection against beetles, use beetleGONE!® with grubGONE!® to control the entire beetle and grub life cycle.
beetleGONE!® is registered as a National Organic Program (NOP) by the EPA. 
Product Information
Application Instructions

Application Instructions
Apply beetleGONE! at a rate of 1 to 2 ounces per gallon of water (slightly less than 1/2 cup or 7 tablespoons per gallon of water). Re-apply every 7-10 days as needed.
Sites of application: beetleGONE! can be used for applications to plants, trees, turf residential lawns, commercial grounds (e.g., offices, shopping complexes and airports), parks schools, playgrounds, athletic fields, day care facilities, pet care facilities, cemeteries, sod farms, and other turf grass covered areas.
Best time to apply is late June to mid-August.
beetleGONE! is not a phytotoxic and can be used on all plant species.
Get Dirty!
Sign up for our monthly newsletter, The Monthly Dirt, for timely lawn and garden tips, checklists and product recommendations.