Image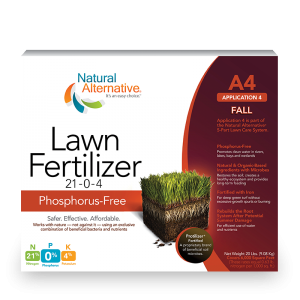 Fortified with Protilizer® for supercharged results.
Fall is the perfect time to fertilize your lawn and restore soil conditions. Natural Alternative® Fall Fertilizer 21-0-4 (application 4) is balanced for optimal turf feeding, containing sulfur and iron to achieve a deep, green lawn without excessive growths spurts or burning.
Fall Fertilizer 21-0-4 contains Natural Alternative®'s Protilizer® Seed & Plant Activator, an organic plant supplement for healthier turf roots and more efficient nutrient uptake. Together, the nutrients in our fertilizer and the beneficial microbes in Protilizer® help your lawn grow thicker and greener without the use of phosphorus, which can cause harm to nearby waterways.
Product Information
Application Instructions

Application Instructions

For Established Lawns: Apply in early fall at a rate of 3 lbs. of product per 1,000 square feet. Apply evenly with a calibrated spreader. 3 lbs. of this product per 1,000 square feet is equivalent to 0.63 lbs. of nitrogen per 1,000 square feet.

For Newly Seeded Lawns: Rake fertilizer into the upper inch of the soil before seeding. Water until the seed germinates and establishes. Continue with the remaining Natural Alternative® 5-Part Lawn Care System.
Get Dirty!
Sign up for our monthly newsletter, The Monthly Dirt, for timely lawn and garden tips, checklists and product recommendations.