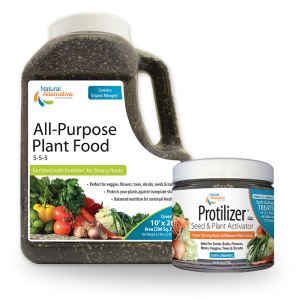 Two great garden products
Feed your garden for optimal results.
Jump-start your garden
This powerhouse bundle from Natural Alternative® includes 5-5-5 All-Purpose Plant Food and Protilizer® Seed & Plant Activator. Perfect for starting a garden, these products work together to efficiently provide your plants with the nutrients needed to flourish. Protilizer® is a 100% organic plant supplement containing beneficial microbes for stronger plant roots and holistic health. Natural Alternative® All-Purpose Plant Food provides balanced plant feeding for visibly bigger blooms and crops.
Tag-team with these products better results
Together, these products assist in all aspect of plant and seed development. Stronger roots courtesy of Protilizer® allow plants to more efficiently absorb water and the nutrients from our plant food, optimizing feeding and minimizing waste. Protilizer® also protects against both transplant shock and plant disease while plant food provides the nitrogen, phosphorus and potassium needed for healthy seedlings, bulbs, herbs, flowers and vegetables.
Product Information
Application Instructions

Application Instructions
Protilizer Seed & Plant Activator
One scoop of Protilizer® Seed & Plant Activator makes one gallon of finished product. Simply open the packet and pour into a one gallon watering can. Fill with water.
For New Plants and Transplants: Dip the root ball of the transplant into the solution; place in soil; fill hole with Protilizer® solution; backfill with soil.
For Seeds: Place seeds in starter cells; cover with soil to the recommended depth for the seed type; gently pour Protilizer® solution from a water can. Keep moist and apply weekly. Apply every two weeks for 2 to 3 applications then move to once a month.
For Maintenance of Established Plants: Apply once a month. If plants are stressed due to transplant, repotting or environmental issues, apply every two weeks for 2 applications, once a month there after.
For Dry Applications: Protilizer® can be dry mixed in the soil or potting soil. The standard rate is 1 lb of Protilizer per cubic yard of soil. The most important issue is to ensure the Protilizer® is evenly distributed throughout the soil.
5-5-5 Organic All-Purpose Plant Food
New Tree/Shrub Planting: Mix Natural Alternative 5-5-5 with humus into hole by mixing with humus prior to planting. Use 1/4 cup per foot of shrub or tree height. Water the product into the ground.
Established Trees/Shrubs: Apply 1/4 cup per foot of shrub height in spring and fall to the soil or mulch under the tree/shrub. Work in lightly with rake or hand cultivator.
New Beds: Mix 6.5 lbs. per 64 sq. ft. (8' x 8' plot) and incorporate rake into the top 4 – 5" of soil.
Established Beds: Apply 2.5 lbs. per 64 sq. ft. (8' x 8' plot). Sprinkle product lightly at the base of the plants. Fertilize before mulch is applied. Apply in spring and fall. Remember, too little is better than too much!
Potted and Container Plants: Use 1 tablespoon per 6" of pot diameter every 4 – 6 weeks.
Get Dirty!
Sign up for our monthly newsletter, The Monthly Dirt, for timely lawn and garden tips, checklists and product recommendations.