grubGONE!®
Also Available As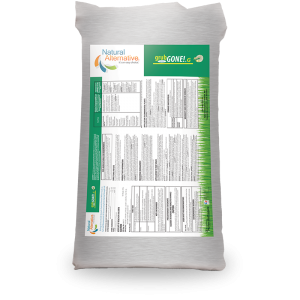 Target the pest, not the rest!®
It's time for effective grub control.
Pairs Well With
Targets all grubs
Control grubs organically with our all-natural grub control formula. grubGONE!® is a granular, bio-insecticide formulated to control turf grubs without side effects and without damage to beneficial insects and pollinators. Use grubGONE!® grub control on your entire landscape, including turf and ornamentals, to protect your property from destructive beetles like Japanese, Asiatic, June and Oriental Beetles in addition to European, Cupreous, Southern and Northern Masked Chafers. For existing adult beetles, use beetleGONE!® to control populations without chemical side effects. Organic grubGONE!® is pet and environmentally friendly, and is friendly to bees and other pollinators.
Seasonal control
grubGONE!® natural grub control is effective on the first to third stages of beetle development (egg, larvae and pupa), grubGone!® can be used both preventatively prior to grub emergence or curatively for an active population. grubGone!® is most effective when applied from April until the end of June, and then again from the end of August until the beginning of October.
grubGone!® is OMRI certified. 
Product Information
Application Instructions

Application Instructions
Apply 2.3 to 4.6 lbs. (37 to 55 oz.) of grubGONE! per 1,000 square feet of turf grass or ornamental plants (equivalent to 100 to 150 lbs. of grubGONE! per acre).

Sites of Application: Phyllom grubGONE! can be used for applications to landscape and recreational turf grasses found in, on and/or adjacent to golf courses (e.g., greens, tees, collars, roughs, and fairways), residential lawns, commercial grounds (e.g., office and shopping complexes and airports), parks, schools, playgrounds, athletic fields, day care facilities, pet care facilities, cemeteries, sod farms, and other turf grass-covered areas.

grubGONE! is not phytotoxic (not poisonous to plants) and can be used on all turf grass and ornamental plant species.
Get Dirty!
Sign up for our monthly newsletter, The Monthly Dirt, for timely lawn and garden tips, checklists and product recommendations.