Ice Melt
Also Available As
Image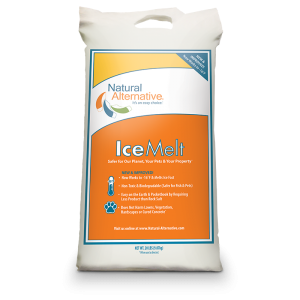 The cooler way towards a safer winter
Safer melting power for your concrete, driveways and asphalt.
More melt with less hassle
Natural Alternative® Ice Melt is a non-toxic, biodegradable, pet-friendly and superior melting agent safer for the environment. Ice Melt provides you with the peace of mind of an ice-free driveway, walkway and patio with three times the melting power of traditional salt products and none of the headache. Ice Melt instantly starts breaking down dangerous ice and snow patches, remaining effective to -16°F.
Pet & Lawn Approved
Use Ice Melt before a winter storm to make cleanup a breeze, and keep some in your vehicle to always stay on the go, no matter the weather. Safer for lawns, runoff from our Ice Melt won't burn or brown grass or plants, and it won't hurt aquatic life. Traditional rock salt products can heat up to 175°F, causing severe damage to the paws of pets and wildlife, in addition to ingestion dangers. Ice Melt is produced as a safer alternative, with a special activator coating designed to jump-start the melting process.
Product Information
Application Instructions

Application Instructions

For best results, apply before a storm begins. To melt existing snow and ice, remove as much snow as possible, and apply Natural Alternative Ice Melt at the rate of 1 to 4 lbs. per 500 square feet, depending on amount of snow and ice present.
Get Dirty!
Sign up for our monthly newsletter, The Monthly Dirt, for timely lawn and garden tips, checklists and product recommendations.