5-5-5 All Purpose Plant Food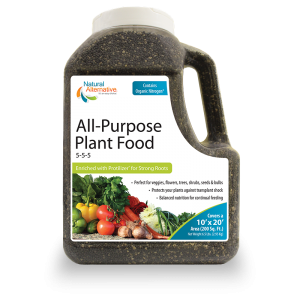 Dinner is served in the garden
Plant food fortified with Protilizer.
Pump up your plants naturally
Whether you're nursing the tomato vine or looking for dazzling dahlias, Natural Alternative® All-Purpose Plant Food 5-5-5 provides plants the nutrients needed to impress. Natural Alternative® 5-5-5 All-Purpose Plant Food is fortified with beneficial microbes from organic-based Protilizer® Seed & Plant Activator, thus improving soil health and outpacing diseases that can wreak havoc on root systems. The all-natural, organic-based plant food is perfect for vegetables, flowers, trees, shrubs, seeds and bulbs. Our plant food provides plants with nitrogen, phosphorus and potassium needed to develop strong roots and stems. 5-5-5 All-Purpose Plant food is environmentally friendly and safer for pets.
Premium quality
Our organic-based plant food contains beneficial soil microbes—95% more than other brands. Recommended and trusted by award-winning rosarians and professional growers, Natural Alternative® all-natural plant food paves the path to beautiful blooms and delicious vegetables. Our plant food is great for reducing stress on transplanted plants, and can be used for continued feeding of established gardens and plants, both indoors and outdoors.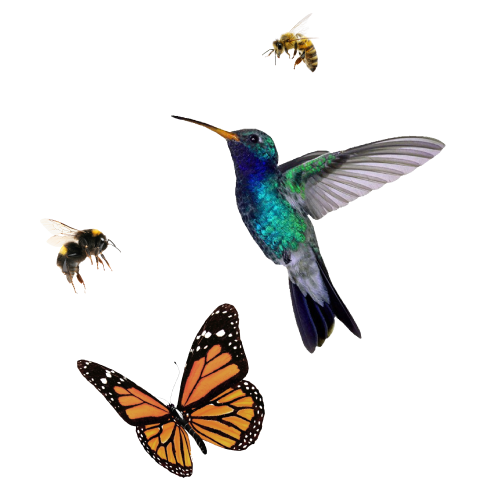 Read our tips for how to encourage a garden filled with pollinators. We promise, your plants and the environment will appreciate it!
Read Now
Product Information
Application Instructions

Application Instructions

New Tree/Shrub Planting: Mix Natural Alternative 5-5-5 with humus into hole by mixing with humus prior to planting. Use 1/4 cup per foot of shrub or tree height. Water in.

Established Trees/Shrubs: Apply 1/4 cup per foot of shrub height in spring and fall to the soil or mulch under the tree/shrub. Work in lightly with rake or hand cultivator.

New Beds: Mix 6.5 lbs. per 64 square feet (8' x 8' plot) and incorporate rake into the top 4 – 5" of soil.

Established Beds: Apply 2.5 lbs. per 64 square feet (8' x 8' plot). Sprinkle product lightly at the base of the plants. Fertilize before mulch is applied. Apply in spring and fall. Remember, too little is better than too much!

Potted and Container Plants: Use 1 tablespoon per 6 inches of pot diameter every 4 – 6 weeks.
Get Dirty!
Sign up for our monthly newsletter, The Monthly Dirt, for timely lawn and garden tips, checklists and product recommendations.