Organic Mosquito, Tick & Flea Control (HES)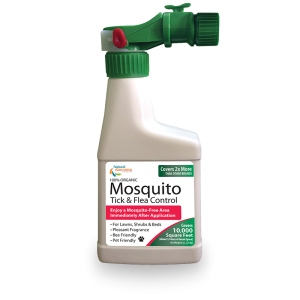 100% organic pest control
Say goodbye to nuisance pests.
Pairs Well With
Beat the buzz naturally with organic mosquito, tick & flea control
Whether you're being hounded by mosquitoes or picking fleas off of your pet, our 100% organic mosquito, flea and tick control spray can help you enjoy your outdoor space without the burden of pests or harmful chemical repellents. Our pest control is DEET-free, with a pleasant cedar fragrance, making it pet and environmentally-friendly. With two times more coverage than other brands, our 8 oz. hose-end control covers 10,000 square feet and will keep your lawn and patio nuisance insect free for hours.
Targets nuisance pests with organic mosquito, tick & flea control
Our organic pest control targets mosquitoes, ticks, fleas and gnats. Designed to be safer on lawns, shrubs, flower beds and gardens, our pest control won't harm beneficial insects or important pollinators like honeybees or butterflies, and won't reduce earthworm activity. Natural Alternative®'s Mosquito, Tick & Flea Control is effective for both adult insects and larvae, helping reduce your future pest problems as well.
Product Information
Application Instructions

Application Instructions

The easy-to-use sprayer makes application mess free and accurate.

Directions: Shake well, before any application of Organic Mosquito, Tick & Flea Control Spray. Attach to a garden hose. Turn the sprayer tab to mix. Treat until foliage or lawn is wet but not saturated. Spray high traffic areas for best results. No wait time but it is recommended to allow product to dry before going back into the lawn, this is so the product dries where you have applied. Typically takes about 10 minutes on sunny days.

One bottle covers 10,000 square feet. Leftover product may be stored for another time. Re-apply every 3-4 weeks to interrupt the mosquito gestation cycle. Re-apply after heavy rain. Do not apply when rain is expected within 12 hours.

For complete protection from mosquito, tick and fleas, spray the underside of foliage, low hanging limbs, under deck structures and around patios. Include mulched areas, beds, tall grasses and edge of wooded areas where children and pets play. Change any sitting water regularly, pet bowls, bird baths and childrens toys this will stop mosquitoes from laying eggs in the sitting water.

For larger lawns: We recommend our mosquito, tick & flea control concentrate. We have different size concentrates available to fit your lawns needs. If you prefer to apply with the Hose End Spray (HES) attachment you can use the concentrates to refill the HES bottle to cut back on plastic.
Get Dirty!
Sign up for our monthly newsletter, The Monthly Dirt, for timely lawn and garden tips, checklists and product recommendations.